Let me start by saying this: I am white.
I will be the first to admit to you that I grew up with all the trimmings of white privilege. As a teenager, I got pulled over by a police officer for running a red light and not only was I not afraid, but I also managed to talk my way out of getting a ticket, let alone arrested. Most importantly, I got pulled over with the assurance that I wasn't singled out because of my race, but because I actually broke the law.
Neither did I grow up in a haven of diversity. My hometown of Maynard, Massachusetts is just over five square miles and 93 percent white. By the 9th grade, most of my Black classmates had dropped out or switched to a popular vocational school in our area. The first time I learned anything about racism (beyond reading about the Underground Railroad and watching Selma in my AP U.S. History Class), I was a college student. Surrounded by international and nonwhite students, I had the opportunity to hear from viewpoints that differed from my own for the first time. I was also a freshman in 2016, during the contentious race between Hillary Clinton and Donald Trump, meaning there were ample opportunities for us to have these conversations in and out of the classroom.
If you are white and you don't think white privilege applies to you, this checklist from Wellesley College will change your mind. Though my worldview has broadened significantly since attending Boston University, I know I will always continue to check those boxes. I recognize the limitations of my white upbringing and the way they continue to affect my thinking today. For example, I still get nervous when I see a homeless Black man on the streets when I am walking alone at night, not because I genuinely believe they will hurt me, but because I was raised on a culture of institutional racism that taught me that "nonwhite" meant "unsafe."
That's why I think it's so important for white people, myself included, to educate themselves about the history of racism in our country. As a book blogger, I know I'm guilty of reading too few books written by POC — yet I firmly believe that the best way to understand how our Black friends are feeling right now is to step back and let them take the mic.
As white people, we have a responsibility to right the wrongs that have occurred in this country; to interrupt the cycle of racism. The better we educate ourselves now, the better we can pass down the values of tolerance and intersectionalism to the next generation, so the cycle of racism and abuse can end with them. It's the second most important thing you can do, right behind voting against Donald Trump, to shape the landscape of America's future.
Undoubtedly, white book lovers owe diverse voices their due. You can start by reading the 1989 essay White Privilege that launched this discussion, but one essay is not enough. That being said, I've compiled this reading list of eleven books with myself and my white peers in mind. Some are fiction, some are nonfiction — but all are informative about the Black experience in our country and provide a platform for Black voices. I'd especially like to highlight the first two books, which come from Shae @bookswithshae and @blackoutbuddyread.
Shae is the founder of the Blackout Buddy Read, happening from June 5 – June 19 (which is Juneteenth, the day the last slaves were freed in America). She selected White Fragility and White Rage with white allies on booktube in mind. Using the power of her voice, Shae is helping people understand the root of the problem and providing them with resources to "be the change," as Gandhi said. We are so lucky to have voices like Shae's educating the next generation of children (she is also a teacher and curriculum developer), and I hope you will consider joining her for the Blackout Buddy Read!
The Blackout Buddy Read's first pick examines the phenomenon of white fragility, or our race's tendency toward defensive emotions and behaviors like anger, guilt or sadness; argumentation and apathy when confronted by the realities of racism. DiAngelo grew up, as she describes, "poor and white," and has since devoted her life to analyzing the reasons why growing up poor and white is different from growing up poor and Black in America.
Shae's second pick makes the distinction between the "black rage" described by the media in response to the protests in Ferguson, Missouri in 2014, and the "white rage" described by author Carol Anderson in her op-ed for the Washington Post. Dr. Anderson is a Black professor whose book analyzes how the thread of white rage — displayed through systemic oppression — runs through American history, disguised by attempts to protect democracy, promote fiscal responsibility and counter fraud.
Understanding what it's like to grow up Black in America begins with listening to the voices of those that are oppressed. While The Hate U Give is a work of fiction, the raw emotion behind the work stems from the truthful experience of growing up in an unequal world. Sixteen-year-old Starr Carter lives in a poor Black neighborhood, but attends a wealthy white prep school. When she witnesses the fatal shooting of her childhood best friend Khalil, only she can speak out about what truly happened that night — but doing so could cost her her life.
Another tale about the effect of race relations on America's youth, Dear Martin tells the story of Justyce and Manny, two friends caught in the crosshairs of an off-duty white cop's fury. After shots are fired, Justyce is left to deal with the media fallout. To determine if his teachings still hold up in a racially charged era, Justyce begins a journal to his hero, Dr. Martin Luther King Jr., as he struggles to process the aftermath of his trauma.
This finalist for the National Book Award was written by Black Haitian immigrant Ibi Zoboi, whose roots can be seen in her main character, Fabiola. Fabiola is also a Haitian immigrant who struggles to adjust to her new life in Detroit when her mother is detained by U.S. immigration officials. Not only does this book explore the complexity of race relations in the United States, but it also touches on the injustices faced by immigrants in today's hostile political climate.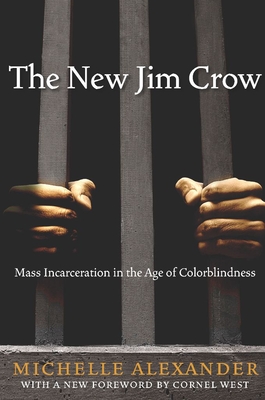 Published in 2010 on the heels of Barack Obama's incumbency, The New Jim Crow challenged the idea that Obama's presidency signified a new era of colorblindness by drawing attention to the epidemic of mass incarceration. Exploring how the War on Drugs disproportionately targeted POC and relegated them to a permanent second-class status, Michelle Alexander singles out the legal policies that continue to discriminate against Black Americans.
Think you're not racist? Think again. Dr. Jennifer L. Eberhardt uses empirical research in the field of psychology to show why it's impossible for humans to be unbiased, and explores how those biases infiltrate every sector of our lives. Dr. Eberhardt is a Black woman, professor at Stanford University and grassroots activist in the criminal justice system who brings her real-world experience to her storytelling…. Plus, Trevor Noah called her a genius. So there's that.
Donald Trump infamously called Black men "thugs" in a recent tweet — and Paul Butler's book Chokehold describes exactly how this preconception developed among white America. Butler uses objective data to show that white men commit the majority of crime in the United States (example: a white woman is ten times more likely to be raped by a white acquaintance than be the victim of violent crime at the hands of a Black man), while unapologetically acknowledging the sociopolitical power structures that put Black men behind bars.
Hood Feminism by Mikki Kendall is a must-read for any white woman who calls herself a feminist. This book tackles the important subject of intersectionality and the failures of the feminist movement to achieve it. Kendall's book recounts ways being a Black woman has shaped her, including experiences with hypersexualization and hunger, and offers scathing commentary on mental health stigma, politics, pop culture and other ways white women in the feminist movement are unwittingly oppressing their Black allies.
We can't talk about racial justice in America without acknowledging the protests in Ferguson after the fatal shooting of Michael Brown and in Baltimore after the killing of Freddie Gray. Jennifer E. Cobbina talks about how these events affected their majority-Black communities, offering firsthand accounts of the towns' residents and their experiences with race and policing. This context informs how the resulting Black Lives Matter movement sprung from anger and shock, and how its mobilization was impacted by the actions of white police officers.
In her book The Poisoned City, author Anna Clark describes the Flint water crisis as an "American urban tragedy." We all remember the media explosion that ensued after the lead-tainted water in Flint, Michigan was found to be poisoning its children and residents — but why did it take 18 months of activism for action to be taken? Clark describes how the poor, African-American residents of Flint were not viewed as credible and how the democratic process failed the people of this so-called poisoned city, as well as how these factors combined to escalate the water crisis.